---
You're 3 Stretches Away from Lower Back Pain Relief
Stretching is a great way to
relieve chronic and acute lower back pain
- and prevent future lower back problems. Because the muscles in the back extend in many different directions, it's important to do a variety of stretches. Virtua physical therapists recommend doing 10 to 15 reps of these basic lower-back stretches, which provide pain relief and are easy to do at home:
Lie flat on your back and pull your knees to your chest.
Lie flat on your back with your arms outstretched in a "T" position, bend one knee and twist in the direction of your straight leg while trying to touch your bent knee to the floor (called a spinal twist).
Lie on your stomach with your arms stretched overhead and lift your chest and/or legs off the floor (called a "superman") and hold a few seconds.
If you're experiencing low back pain, physical therapy can help you avoid medication and get the relief you need.
Learn more about
physical therapy
at Virtua, or call
1-888-847-8823
to make an appointment.
---
Get to Know Dr. Nathan Bodin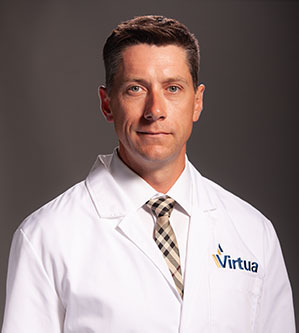 Nathan Bodin, MD
, is a hand surgeon who specializes in the diagnosis, treatment, and rehabilitation of injuries and disorders of the hand, wrist, forearm and elbow.
He sees patients in Voorhees and Washington Township at the
Virtua Hand Surgery and Rehabilitation Center.
To schedule a consultation, call
1-888-847-8823
.
---