---
April is National Minority Health Month
Join Virtua Health to Get #VaccineReady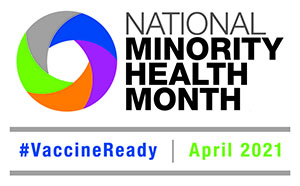 The COVID-19 pandemic has disproportionately impacted racial and ethnic minority communities. It underscores the need to vaccinate our vulnerable communities, especially as more vaccines become available.
Virtua Health supports the U.S. Department of Health and Human Services Office of Minority Health (OMH) in raising awareness about
COVID-19 vaccination
, which is an important tool to help us get back together with our families, communities, schools, and workplaces.
Here's how you can help get #VaccineReady:
---
ESPN's Stephen A. Smith Receives COVID-19 Vaccine at Burlington County Mega-Site
Sportscaster Stephen A. Smith is earning praise on social media over his public and impassioned decision to receive the COVID-19 vaccine. He
addressed the topic on ESPN
, saying:
"The virus has been especially brutal to my community … and the data shows that Black Americans are far more likely to be infected, get hospitalized, and even die from COVID-19. And now, the data shows that Black Americans are not getting the vaccine, at least not at the same rate as other communities."
In March, Smith joined Virtua Health President and CEO
Dennis W. Pullin
at the Burlington County Mega-Site and received his first dose of the vaccine. Smith said
Dennis' op-ed about building trust through candid vaccine conversations
helped inform his decision.
Smith's
tweet about his visit to Virtua
has received more than 15,000 likes so far, and is helping advance conversation nationwide about the importance of vaccination.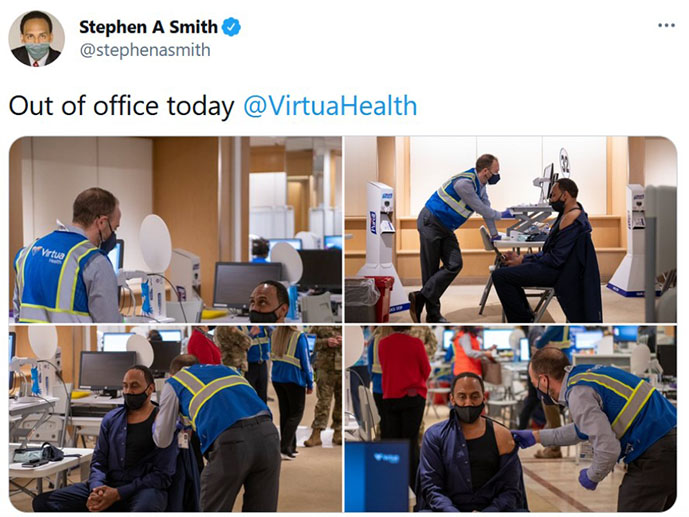 ---