Honoring Our Front-Line Heroes
See how a local business owner paid tribute to Virtua colleagues
by placing large letter signs on the grounds of all five Virtua Health hospitals.
---
What it's Like to Deliver a Baby During a Pandemic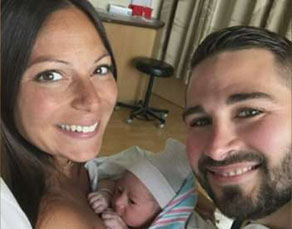 Meet one of the 1,480 babies that Virtua doctors have delivered in the first nine weeks of the pandemic
, working with a variety of new safety measures to reduce the risk of spreading COVID-19.
---
How the Pandemic Sparked a Sculptor to Become a Health Care Innovator
Meet the grandfather and grandson who have dedicated their free time during the pandemic to build "intubation boxes" designed to protect health care workers.
---

Virtua Nurse Featured on "Remarkable Women"
If there is one word to describe Virtua nurses, it would have to be "remarkable."
Nurse Katie Grau of Virtua Voorhees Hospital spoke with radio host Marilyn Russell for the "Remarkable Women" interview series.
---
Leading During a Pandemic
Virtua Health president and CEO Dennis W. Pullin spoke with NJ.com about what it's like to lead during a health crisis and maintaining one's sense of purpose.
---
Confidence in Walk-in Care
Warm weather and fresh air may feel better than ever, but when seasonal allergies, backyard sports injuries, and barbecue belly upsets strike, Virtua Urgent Care is here for you.
We have special safety precautions in place at our
eight locations
so you can feel confident getting treatment for minor illnesses and injuries without an appointment. We've enhanced all of our safety, cleaning, and physical distancing practices, so you don't have to delay the care you need.
Visit
Virtua Urgent Care
near you for common summer conditions like:
Minor burns, bug bites, rashes, poison ivy
Upset stomach
Minor injuries like sprains, strains and simple fractures
Bumps, bruises, cuts, and scrapes
Infections like pink eye, earache or urinary tract infection (UTI)
X-RAYS AVAILABLE ON SITE
---