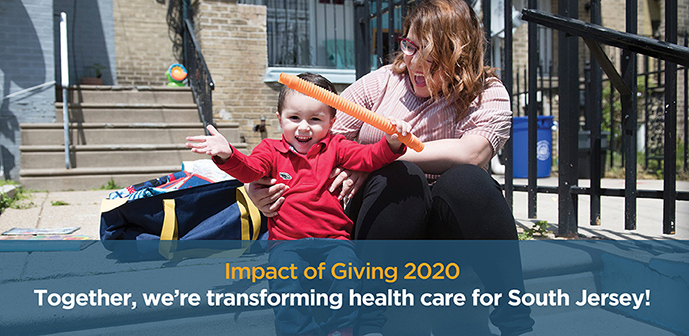 Impact of Giving 2020
Virtua Health's generous donors are helping us transform health care for South Jersey! From supporting our Coronavirus Emergency Fund, to helping us launch the new Eat Well Mobile Grocery store, their support in 2020 will have lasting impact for years to come.
Read more about the impact of philanthropy in 2020 at:
GiveToVirtua.org/impact
.
---
---
In the News
Virtua expert says COVID-19 vaccine only way to 'get back to normal':
As Virtua surpassed its 100,000th vaccine dose given, our chief clinical officer, Dr. Reg Blaber, discussed this encouraging milestone and the new Johnson & Johnson vaccine.
Hear or read this KYW Newsradio story
.
Giant steps forward in cancer treatment:
Local experts, including Virtua breast surgeon Elizabeth Revesz, MD, shared several advances. Dr. Revesz spoke about two innovations that are improving surgical outcomes for women.
Read this South Jersey Magazine story
.
Vaccine mega-site adds sensory rooms for people with special needs:
Virtua created specially designed rooms at the Burlington County COVID-19 Vaccine Mega-Site to provide a stress-free experience for people with autism, dementia, PTSD, and other conditions.
Watch and read this CBS 3 story
.
COVID-19 long-haulers: Can they still get better?
Even a year after contracting COVID-19, some patients are still recovering. Virtua pulmonologist Eric Sztejman, MD, and one of his patients discussed the impact of "long COVID." In fact, Virtua will soon launch a special program for these patients.
Read this Philadelphia Inquirer story
.
---
We Can't Mask Our Appreciation
Express your appreciation for health care workers—and your creativity, too. Virtua Health invites you to unleash your inner artist by designing a one-of-a-kind facemask. From clever kindergartners to professional artists, everyone is invited to add their talents to the gallery. The Virtua staff will even select one or more designs to become actual masks for frontline colleagues to wear and enjoy.
Design a Mask Today
---