---
What Plant-Based Foods are Healthiest for Your Heart?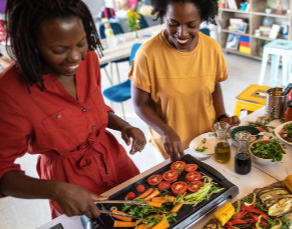 Not all foods that come from plants are good for your heart.
See what foods are best and what to include if you're not totally ready to become vegan or vegetarian.
If you currently have heart disease,
see how you can reverse it by following a plant-based diet.
---
Eat Well and Be Well in 2020


Virtua's Plant-based Lifestyle Program provides all the tools you need.
This six-week program helps educate and motivate you on your journey toward living a more plant-based life. Led by Virtua registered dietitian and plant-based diet expert Jessica Funchion, MS, RD, LDN, and cardiologist Steven Lederman, MD, the program includes cooking demonstrations and food tastings, as well as resources and materials.
Registration required.
Date:
Six consecutive Wednesdays, starting March 4
Time:
6 - 7:30 p.m.
Location:
Virtua Health & Wellness Center - Cherry Hill, 1 Brace Road, Cherry Hill, NJ
Cost:
$199 due at time of booking (Virtua employees with Aetna benefits can submit for reimbursement after completion.)
Register online
or call
888-847-8823
.
---